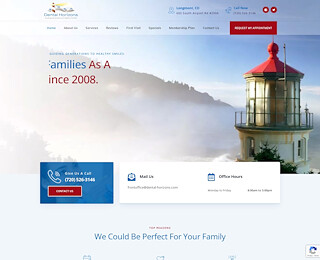 Are you looking for a new dentist in Longmont? If so, Dr. Andrew Kelson of Dental Horizons invites you to schedule an appointment for your initial consultation. Finding a new dentist is a serious personal decision, and you want to make sure that you are changing to the right dentist. Whether you are new to our area or you are looking to switch dentists for another reason, Dental Horizons welcomes you! We'll do everything that we can to make the transition seamless and painless for you.
How Do I Choose the Right Dentist in Longmont?

Dental Horizons welcomes children and adults, and we are currently accepting new patients. When a new patient comes in for the first time, we will need to gather some information from them. Information obtained in the form of an assessment initiates the process that starts at our front desk and ends in the dentist's chair. First, we need to learn about your medical history so that we can provide safe treatment for you at all times.
We always tell new patients to make a little more time for their first visit. The first visit is where mouth-mapping takes place, which is how we monitor changes over time. We'll get to know you a bit during the first visit, and you'll spend a little more time in the dentist's chair. He is going to check your mouth for any immediate concerns, such as oral cancer, the condition of your jaw joints, and the overall condition of your current oral health.
Next, you will have a chance to meet your dentist, ask him questions, express your concerns, and discuss your dentistry goals. The first visit is twofold - to familiarize with one another and get a clear picture of your present dentistry needs and objectives.
What's the Best Way to Compare Dentists in My Community?
Dental Horizons also provides all of our new patients- children and adults- with a tour of our clinic. Dental Horizons is an education-oriented dental clinic, as we believe that the best way for our patients to obtain optimal oral health and hygiene is by being informed. Knowledge is power, and knowing how to care for your oral health properly is very important!

Consider Dental Horizons
If you are looking for a new dentist in Longmont, consider Dental Horizons and Dr. Andrew Kelson. Here, we provide top-notch dentistry for patients of all ages, and we make payments easy. How so? Dental Horizons has a membership plan, so whether you have insurance or not, you can get the dental treatment that you need for your entire family for a small annual fee.
At Dental Horizons, our staff is committed to providing superior dentistry and superior service to our patients- a commitment that starts with the receptionist and ends with the dentist. We will do everything we can to make you comfortable from the time you walk into our clinic. Call and schedule your first appointment today.
Dentist Longmont
Dental Horizons
3035363464
600 S Airport Rd, Longmont, CO 80503
View Larger Map