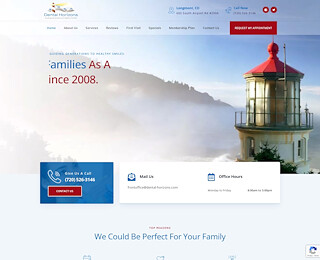 If you are interested in Invisalign in Longmont, Dental Horizons welcomes you; in fact, we currently accept new patients of all ages. If you are considering Invisalign, you should know about all of your options, why people love Invisalign, and how payments can be structured if you don't have insurance. Your new patient appointment starts with an initial consultation and assessment, so please, call and schedule your first appointment today.
Whether you are interested in Invisalign for yourself or your child, Dental Horizons would like to meet you and discuss your orthodontic goals. We will provide you with insight, feedback, and a variety of options that suit your needs and goals.
How Can I Find Out About the Advantages of Invisalign in Longmont?
At Dental Horizons, we wholeheartedly believe in patient education. We like to discuss all of your options with you, along with all of the pros and cons of each kind of treatment. While Dental Horizons promotes Invisalign because of its many benefits, we also want our patients to be informed so that they can make the right decisions for their health and well-being.
You should know that Invisalign is not the only type of clear aligner on the market. Just as with most other products, there are numerous options available, the same applies fo orthodontic treatment, therefore, there are many brands of clear retainers. Still, Invisalign is widely recognized as the best and most trusted brand. You'll find additional information provided on our website when you browse the resources provided- or when you come in for your first appointment.

What Does Invisalign Do?
Invisalign is a clear teeth aligner that moves your teeth from one point to another. In other words, Invisalign straightens out crooked teeth. You'll come in to our office every few weeks for a new Invisalign aligner, which replaces the previous one, slowly moving teeth into place. Essentially, Invisalign does exactly what traditional orthodontics do, but there are a lot of advantages that Invisalign has over braces.
What are the Benefits of Invisalign?
As the name implies, Invisalign retainers are clear. Unlike standard braces, Invisalign is virtually invisible, which is preferred by many orthodontic patients who don't want to have a big, clunky mouth of metal to show to the world. Another advantage of the Invisalign system is its removability that allows you to pop them out while eating or brushing your teeth and pop them back in just as easily.
Invisalign patients tend to experience far less pain than patients who opt for braces- and Invisalign is more efficient, as well, moving the teeth into their proper setting quickly and incrementally.
Schedule an Appointment
If you are interested in Invisalign in Longmont, reach out to our front desk staff to make Dental Horizons your choice. We would be happy to meet with you and discuss your options. You'll be pleased to learn that Dental Horizons also offers affordable pricing structures for patients who do not have insurance.
Invisalign Longmont
Dental Horizons
3035363464
600 S Airport Rd, Longmont, CO 80503
View Larger Map